Features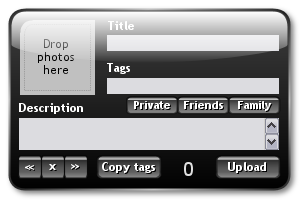 Drag-and-drop to upload multiple images at once.
Enter a title, tags, and description for each image before uploading.
Choose privacy options for each image.
Copy tags to all images in a batch.
Background uploading so you can work on one batch while another is uploading.
Supports the new Flickr application permission system so you do not need to give your username or password.
Easily browse through images ready for upload.
Easy to use: drop a photo, type a title, press TAB to move between fields. Press TAB in the Description field to move to the next image.
Automatically checks for version updates.
Updates from 0.9beta to 1.0
Fixed a bug causing the "Drop photos here" image to disappear after uploading.
Ampersands in the title, tags, or description prevented images from uploading. This was addressed by converting ampersands to plus signs. This isn't ideal but there appears to be a bug in the way Yahoo! Widget Engine encodes multi-part forms.
Four months of testing is enough to move out of beta with confidence. :-)
Requirements
Windows XP or 2000 or Mac OS X 10.2 or greater
A Flickr account
Download and Installation
Download and install Yahoo! Widget Engine if you don't already have it.
Download the Flickr Uploader and unzip it to your My Documents/My Widgets folder (Windows) or ~/Documents/Widgets (Mac OS X).
Open the Widget by double-clicking it or opening it from Yahoo! Widget Engine.
Thank you
License
This program is free software; you can redistribute it and/or modify it under the terms of the GNU General Public License as published by the Free Software Foundation; either version 2 of the License, or any later version.
This program is distributed in the hope that it will be useful, but WITHOUT ANY WARRANTY; without even the implied warranty of MERCHANTABILITY or FITNESS FOR A PARTICULAR PURPOSE. See the GNU General Public License for more details.