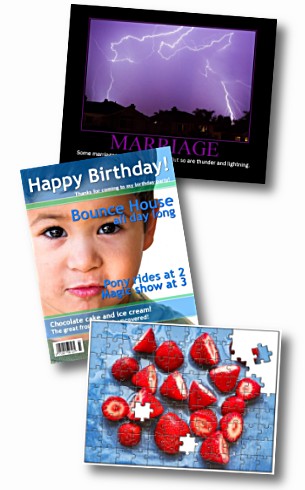 Purchase professional prints created from a high-resolution version of your customized creations. Prints are made on glossy or matte professional archive photo stock for a beautiful and durable product.
The custom magazine covers and movie posters make great gifts for birthdays or anniversaries. Or use them to highlight activities or as a menu at your next event—and they're great take-home gifts for your guests. Motivator posters look beautiful framed or hung on your home, office or classroom wall.
Here's how to order:
Go to the Gift center to order personalized calendars, cards, holiday ornaments and other goodies. Or make a one-of-a-kind product using the Motivator, Mosaic, Magazine Cover, Pop Art poster, Movie Poster, Photobooth Strip or Jigsaw toys.
Customize your creation with your own photograph and text.
Preview your creation and add it to your cart to begin ordering.
And remember, whether you choose to purchase a print or not, the images you create here from your own photos are yours to use however you wish. Have fun!
Reprints
Go to the following page to order reprints of a previous order: Order Reprints. Or visit your order history page and click Order Reprint.
Shipping
Standard shipping to the USA is FREE! Standard delivery in 4-7 business days. Faster shipping available.
The best way get an estimate for your order with shipping is to add some items to your cart and choose a shipping method. You'll see your order total right in your cart without needing to checkout or provide any other information.
Pricing
Posters
Get up to an additional 25% discount for ordering more than one of these items. Discount applies if you order more than one of a single item or multiple items.
Cards, Calendars, & Gifts
More questions?
Have a question prior to ordering? Read our ordering information (link opens in popup window) or email us. We answer all emails within 24 hours (except on weekends and holidays).