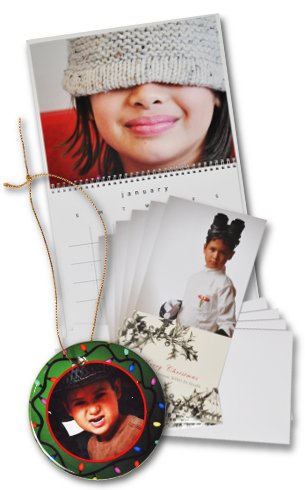 We have a new Product Thing! But don't listen to me... let the lovely and talented (but not a product expert) Irene tell you about them! (Or just click here to order.)
Now available! Gorgeous cards and calendars personalized with your own photos. 12- and 18-month spiral bound calendars are printed using your photos on high quality card stock. The quality is amazing and there are several template designs to choose from. Cards come in 4x8, 5x7 (folded) and 3.5x5 inch sizes. The unique 4x8 cards are great for invitations, thank yous, and announcements with tons of fun templates.
For a limited time, we're also offering 3-inch ceramic holiday ornaments in star and circle shapes. Your photos (you can choose a different photo for each side) are printed directly onto the ceramic. Each ornament comes with a delicate gold string for hanging.
Here's how to order:
Go to the Gift center to order personalized calendars, cards, holiday ornaments and other goodies. Or make a one-of-a-kind product using the Motivator, Mosaic, Magazine Cover, Pop Art poster, Movie Poster, Photobooth Strip or Jigsaw toys.
Customize your creation with your own photograph and text.
Preview your creation and add it to your cart to begin ordering.
And remember, whether you choose to purchase a print or not, the images you create here from your own photos are yours to use however you wish. Have fun!
Reprints
Go to the following page to order reprints of a previous order: Order Reprints. Or visit your order history page and click Order Reprint.
Shipping
Standard shipping to the USA is FREE! Standard delivery in 4-7 business days. Faster shipping available.
The best way get an estimate for your order with shipping is to add some items to your cart and choose a shipping method. You'll see your order total right in your cart without needing to checkout or provide any other information.
Pricing
Posters
Get up to an additional 25% discount for ordering more than one of these items. Discount applies if you order more than one of a single item or multiple items.
Cards, Calendars, & Gifts
More questions?
Have a question prior to ordering? Read our ordering information (link opens in popup window) or email us. We answer all emails within 24 hours (except on weekends and holidays).